27 Miracles Wedding Consulting is a full-service wedding and event coordination business able to meet your needs from wedding consultation to full event coordination (and anything in between).
What are the 27 Things I need for my Wedding?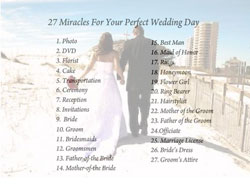 About Us
Master Wedding and Event Planner Rosie Moore and her experienced staff provide 27 Miracles' customers the ability to manage their wedding according to their own needs and wants. This approach carries into the planning stage so that every bride and groom have as much control as they desire over the most important wedding day decisions.
We are members of the Association of Bridal Consultants (ABC)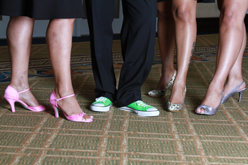 Worry-Free Engagements
Don't spend your special engagement time stressing about your wedding. When you work with 27 Miracles you can be assured that everything will be taken care of and your dream wedding will become a reality. You can just sit back, sample the cake, taste the champagne and (literally) smell the roses while you enjoy your engagement. Visit our newly engaged facebook fan page:

Our Process
We'll discuss all your ideas at length then design a plan with a variety of options for you to consider. After you've given us the go-ahead, we'll make it all happen and keep you updated regularly.
Affordable Quality
With our extensive industry experience and contacts, we are well-positioned to create your memorable day for a much lower cost than you might expect. We'll manage your entire wedding – or just certain elements of it (whatever you need).